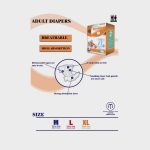 Leakex Diaper XL Adult Diaper
MRP: 500.00
Ideal for active men & women.
Provides maximum protection from incontinence.
Pull-Ups feature, stretch waistband and tear-away sides for easy removal.
Description
Soft inner lining & pant-style fitting gives comfort, hygiene & leaves you secure for hours.
Non-woven one way top.
Channels fluid into the absorbent pad and prevents it from flowing back.
Inner absorbent pad.
Superior absorbency turns fluid into gel.
Users feel dry and comfortable.
Frontal tape with landing guide.