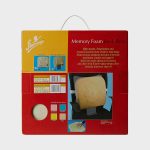 Flamingo Memory Foam Back Rest
MRP: 1,700.00
Reduce the back strain
Provides comfort and support to your spine.
Expert's Advice

Very soft orthopaedic foam for back support
Description
Temperature and pressure-sensitive foam of this back rest perfectly molds as per the body shape.
Memory foam dissipates pressure in order to provide maximum comfort and support to the back.
Improves the posture of the user.
Relieves back discomfort.
Has an easy-to-adjust straps, which allows virtual universal chair fit.
Light in weight.