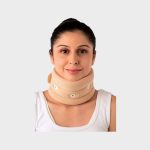 Vissco Cervical Collar with Chin Support Large
MRP: 210.00
Provides immobilization to the cervical spine.
Supports the chin region more comfortably and keeps the neck in slight extension.
Description
Additional information
Description
Helps ensure you feel relief from pain as soon as possible.
Provides warmth and support to the neck region.
Supports stabilizes the neck and immobilizes the cervical spine restricting its flexion, extension and rotation.
Supports maintains neutral alignment.
Adjustable in height to stabilize the cervical region firmly to immobilize the neck during injuries.
Slight extension provided for chin support to relieve pressure from discs.
Dye-molded plastic polymers offer a firm support largely preventing flexion & extension of the cervical spine.
Hook and loop velcro fasteners provided for proper adjustability.
Available Sizes – S 30-34 cms, M 34-38 cms, L 38-42 cms, XL  42-46 cms, XXL 46-50 cms.