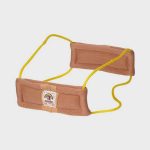 Vissco Cervical Traction Headholder
MRP: 240.00
Suitable for horizontal and vertical traction to the hospital, home or private clinics.
Longitudinal stretching effectively reduces pain associated with cervical spondylosis.
Can be used for all adults and children.
Description
Helps patients suffering from cervical related ailments such as spondylolisthesis and fracture.
Used as a head holder for applying in cervical traction.
Indicated in cases like spondylosis, spondylolisthesis, fracture etc.
Made up of cotton fabric which is soft in nature.
Holds the neck with maximal comfort and is used for applying traction to cervical vertebrae which in turn relieves cervical pain.