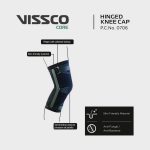 Vissco Elastic Knee Cap With Hinges XXL
MRP: 514.00
Helps you recover quickly from osteoarthritis, cartilage damage and overworked knee joint.
Designed to support and stabilise the knee.
Description
Additional information
Description
Provides compression and warmth to the knee and improves blood circulation to soft tissue areas surrounding the joint.
Protective to wear during an upcoming strenuous physical activity.
Made using skin-friendly material.
Has hook and loop straps above the below the knee to allow optimal support.
Side supports are moulded in fibre which makes the product light weight.
Has cotton knitted fabric that permits airflow and its ergonomic design ensures two-way stretch.
Available Sizes (At Knee) – S 32cm, M 36cm, L 40cm, XL  44cm, XXL 48cm.