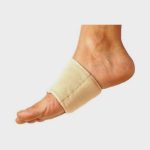 Vissco Silicon Metatarsal Cushioned Support
MRP: 314.00
Supports heels bear our entire body weight, every day.
Reduces the impact or load on the metatarsal area, leg as well as spine.
Works as a shock absorber reducing pain and discomfort of any kind.
Expert's Advice

ideal in preventing corns on the sole
Description
Vissco Silicon Metatarsal Cushioned Support
Helps relieve pressure on the metatarsal and help reduce pain while walking.
Helpful in treatment of painful metatarsalgia.
Provides support to the metatarsal arch by preventing friction.
Supports collapsed transverse arch.
Provided with a silicone padding which fits snugly into the arch of the foot, providing support and comfort.
Silicone padding is covered with elasticated knitted fabric for comfortable fitting.
Fits on to any foot size, one size fits all.
Can be worn with or without shoes.
Can be used on the left or right food.
Designed to deform slowly in a non-linear manner, thus reducing shock and impact to the heel.