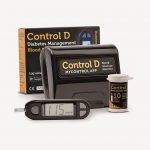 Control D Blood Glucose Monitor (Pack of 10 Strips, Black)
MRP: 1,499.00
With advanced Amperometric Biosensors to measure accurate blood glucose using low volume of blood in 5 seconds.
Description
Packed in a crafted plastic box that fits inside the pocket of the patient.
Provides accurate and reliable results.
Can be measured indoors and outdoors as well.
Cost-effective diabetes care.
Personalized & optimized treatment with intervention at the right time.
No need to record blood sugar reading values.
Can be used for both type 1 and 2 diabetes.
Fully interconnected with dynamic diabetes management tool.