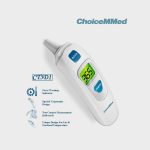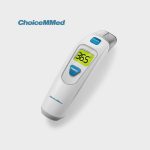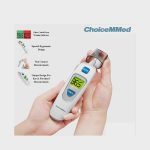 ChoiceMMed CT5D1 Infrared(Dual Mode-Forehead & Ear) Thermometer (White)
MRP: 2,890.00
Thermometer can give the result with Dual mode (Ear & Forehead).
Stable measurement and without interference from the ambient temperature.
Description
Self-tests every time it starts up to make sure the normal operation and accuracy.
Suitable for adults and children.
Applicable for the forehead and ear temperature.
Special ergonomic design to facilitate operation.
Memory function recalls 20 previous readings at most.
No danger of breaking the glass or swallowing mercury.
Fever warning when the reading exceeds 37.5℃/99.5℉.
Large digital LCD display with backlight.