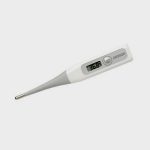 Omron Digital Thermometer MC-670
MRP: 1,200.00
For oral, rectal and underarm temperature measurement.
Description
Quick actual measurement: 10 sec for rectal, 20 sec. for oral and #25 sec for underarm measurement.
Display in 0.1 degree increment.
Flexible Tip: Provides added comfort and safety.
Accurate measurement: Measures actual temperature in °C and °F.
Water-resistant: For easy cleaning.
Memory: Recalls last temperature.
Battery can be replaced.
Buzzer: Beeps when measurement is completed.