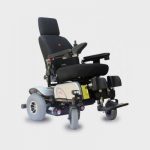 Ostrich Mobility Pristine Electric Wheelchair
MRP: 287,700.00
Most stylish, powered wheelchair with revolutionary Split Frame Chassis (SFC).
Indoor outdoor mobility equipment gives great comfort, stability and safety even in the toughest outdoor conditions.
Description
Body panels and the shopping basket make this equipment best suited for your kind of lifestyle.
Call alarm, Fault alarm, Reverse alarm (on request), Low voltage alarm.
Key pad locking, Mobility cut-off while charging, Auto shut-off after 3 minutes.
Five speed selector, Length adjustable joystick control unit (can be changed from left to right and vice versa).
Foldable, height-adjustable and angle adjustable foot rest, Wide arm rest with height and width adjustment.
Bucket seat with headrest and lap belt, Seat can be folded for transportation.
Seat reclines 25 degrees in 6 steps, Removable and width adjustable calf support.
Reflectors as per standards, Head lamp, tail lamp, indicators, hazard warning.