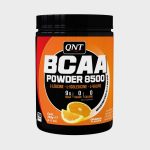 QNT BCAA 8500 – Instant Powder (Amino Acids)
Brand/Mfr. : QNT
Product Highlights
Essential to all hardworking athletes of any sport or persuasion.
FREE shipping on all orders
Description
Gives 9180 mg of BCAA's per serving, with a 2:1:1 ratio.
Highly concentrated l-leucine, l-isoleucine & l-valine.
Supports muscle building & recovery efforts.
Flavours – Lemon, Orange & Forest Fruits.
Mix 5g (1 scoop) in 150ml water before and after exercise.