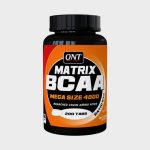 QNT MATRIX BCAA MEGA SZE 4800 (0.49lbs) Nutrition Bars (220 g, UNFLAVOR)
MRP: 2,599.00
Helps to increase size, strength and endurance.
Extreme anticatabolic.
Description
Among BCAA's (Branched Chain Amino Acids), L-Leucine, L-Valine and L-Isoleucine are the 3 amino acids that are the most common in muscular tissues.
In order to optimize the action of BCAA's, vitamin B6 was added.
Take 3 tabs before and after workout.
For Muscle recovery, Micronized for faster absorption.