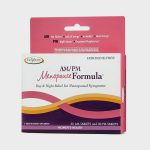 Enzymatic Therapy – AM/PM PeriMenopause Formula – 60 Tablets
MRP: 1,799.00
Perimenopause Formula, containing black cohosh, green tea, chaste tree berry, and Rhodiola.
Hormone-free, 24-hour relief for perimenopausal symptoms.
Allows women to have control over their "change of life" journeys.
Description
AM formula contains green tea to support energy levels and healthy weight management.
PM formula supports relaxation and promotes restful sleep.
Contains no sugar, salt, yeast, wheat, gluten, dairy, artificial flavors or preservatives.
Take 1 (yellow) AM tablet in the morning. PM: Take 1 (purple) PM tablet approximately 30-45 minutes before bedtime.
It may take four to five weeks to achieve full benefits.