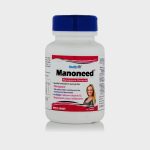 Healthvit Manoneed Menopause Formula For Women 60 Tables (Calcium – Vitamin D, Magnesium,Soya isoflavones)
MRP: 600.00
Specially Formulated for during & after menopause.
Provides vitamin B12 and thiamin (vitamin B1), which contribute to the normal functioning of the nervous system.
Description
Contains moderate dietary levels of Soya Isoflavone extract, to provide Daithein, Glycitein and Genistein isoflavones.
Calcium contributes to the maintenance of bone health.
Includes Calcium-vitamin D, Magnesium, Soya isoflavones.