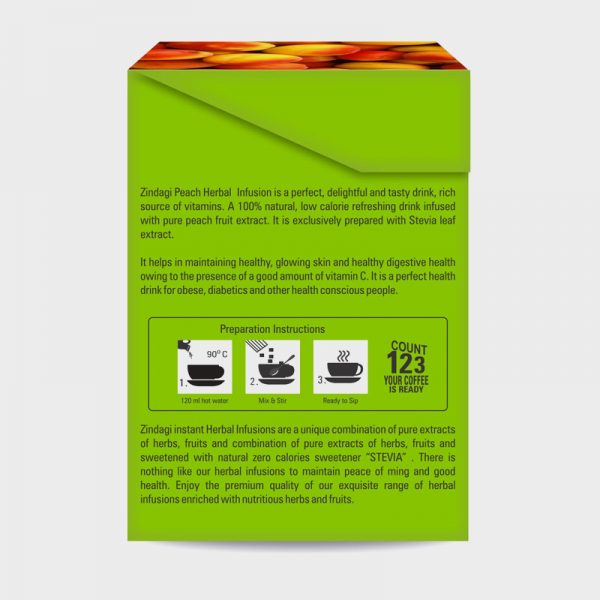 Zindagi Peach Herbal Infusion – Natural & Fat Free Health Drink Sweeten With Stevia – Sugar Free Energy Drink (20 Sachets)
Brand/Mfr. : Zindagi
Product Highlights
A 100% natural,low calorie refreshing drink
Helps in weight loss
FREE shipping on all orders
MRP:
Description
Infused with pure peach fruit extract, exclusively prepared with Stevia leaf extract, a natural sugar free sweetener which is 300 times sweeter than the normal cane sugar.
Good source of dietary fiber, which normalizes bowel movement and at the same time controls hunger.
Helps in maintaining healthy, glowing skin and healthy digestive health owing to the presence of a good amount of vitamin C.
Low in calories, contain no saturated fat or cholesterol, and are a good source of dietary fiber.
Can be enjoyed hot or cold.
Perfect health drink for obese, diabetics and other health conscious people.
Full of vitamins and antioxidants which helps fight toxins, lowers bad cholesterol.
Refreshes & rejuvenates body.
Safe for diabetics, No additives are used during processing (in the form of artificial colors/ any preservatives).
Directions of Use
1 sachet can be used either in cold or hot water.