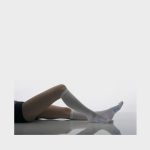 AIRCAST VENAPURE ANTI EMBOLISM STOCKINGS KNEE HIGH WHITE
MRP: 2,800.00
Offers a greater degree of two way compression combined with an increased end stretch provide for a better anatomical fit to the patient.
Ideal for long flight travel, when cramping in legs which slows down the blood flow through veins.
Description
Additional information
Description
Prevents blood clot by applying sustained, even pressure to the legs
Helps prevent DVT(deep vein thrombosis) a serious condition in which blood clots form in the legs
Prevents the pooling of blood in the lower extremities
Reduce the incidence of DVT up to 50% and to promote increased blood flow velocity in the legs
Interrupted silicone thigh band minimizes stocking slippage without constricting compression.
Inspection toe hole facilitates checking the condition of the foot and skin and reduces infection or contamination if ambulatory.
Popliteal break promotes free leg movement and comfort around the popliteal vein.
Color-coded toe provides an easy visual for product sizing.
Inlay circular knit ensures proper pressure pattern through the leg and helps prevent slippage.