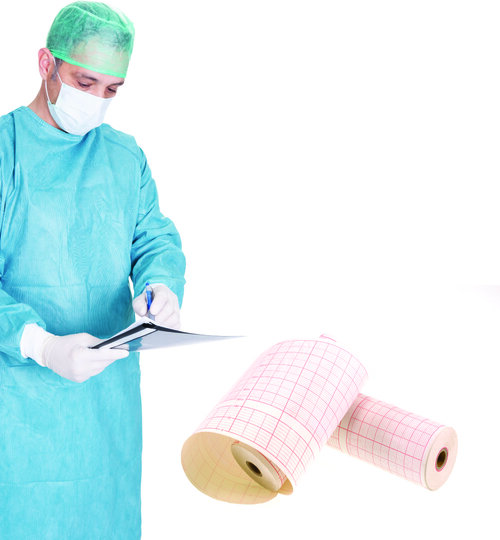 Stiora ECG Recording Paper
Brand/Mfr. : Visit Stiora Store
Product Highlights
A specialized paper used to record signals in the Electro Cardio Graphic machine
Made from thermal paper
Has a clean die-cut
Available in various chart sizes
Available for various brand machines
Expert's Advice

ECG recording paper roll can be used for medical diagnostic and laboratory analysis in hospitals, clinics and diagnostic centers.
Free Delivery PAN India above ₹399
Get flat 3% OFF on Prepaid orders of ₹499 & above. Coupon Code: PREPAID3

Out of Stock
Description
ECG paper is the abbreviation of electrocardiogram paper
 It is a specialized paper used to record signals in the Electro Cardio Graphic machine to evaluate one's heart condition by measuring its rhythm.
ECG paper is made from thermal paper coated with invisible chemicals that can produce a black image when used for the ECG machine.
Our ECG paper has a clean die-cut and can deliver a dark black, clear and vivid printout image.
Deals with single-channel, 3 channel, and multi-channel rolls for various Makes & Models of ECG Machines. They are used in BPL, Mastero and Marks, etc
Offer a complete variety of the BPL ECG in roll and Z-folds for – BPL cardiac, BPL 6108T, BPL 108T, BPL DiGi, BPL 6208, BPL 8108, BPL 8108R, BPL 8408 roll form, BPL 8408 Z-folds.
Have ECG Recording Papers in Z-folds suitable for ECG paper for Philips, H.P Pager Writer, Phillips Trim1, Phillips Trim 2.
ECG paper suitable for the Marquette GE Machines – Have ECG Recording Papers in Z-folds suitable for: Mac 400, Mac 500, Mac 1200, Marquette Case-12, Marquette Case-12 premium, Mac 5000, Mac lab.
ECG paper is suitable for Cardiotouch 3000 and Cardio-care 2000.
ECG paper for Quinton machines. Have the Z-folds from 80 GSM paper as per the specification suitable for the following machines. Quinton 3000/4000, Quinton5000, Max100, Quinton710, C.T.Gpaper roll.
Open the ECG recording paper pack and take a roll.
Roll it in the printer head.
Pull one sheet forward.
Position or place the compartment  door .
Press the paper against the thermal printer head of the printer of the ECG.
ECG tracing must be handled carefully because it is sensitive to heat and pressure.