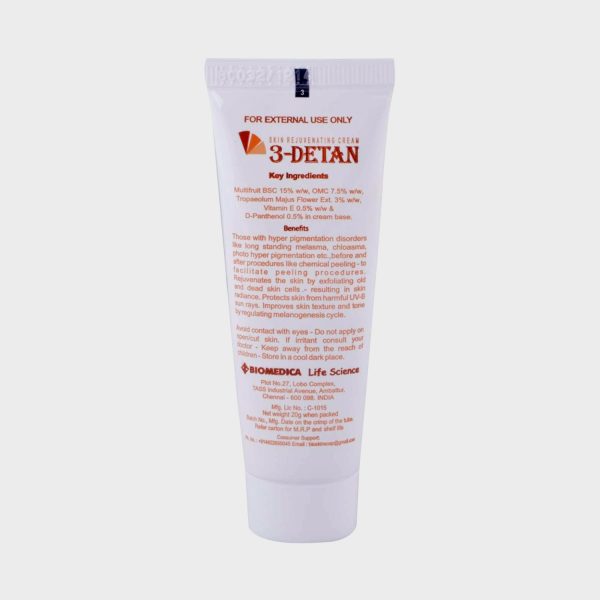 3-Detan Cream Mild Fragrance 50g
Brand/Mfr. : Biomedica
Product Highlights
Detan Cream.
Used for hyper pigmentation disorders such as melasma, chloasma, un-even skin tones etc.,
Contains Multifruit BSC, OMC, Tropaeolum Majus flower, Vitamin E, and D-Panthenol as main active ingredients.
FREE shipping on all orders
Description
Multifruit BSC: Acts as the soothing agent, firming agent, and exfoliant. It has cell renewing, firming and soothing properties on the skin.
OMC: Used in sunscreens and other cosmetics to protect from skin damage. It absorbs ultraviolet radiation in the UVB range.
Tropaeolum Majus flower: Works against various fungal infections, including yeast infection. It protects the skin cells from various diseases.
Vitamin E: Protect the skin against sun damage, reduces the signs of aging including fine lines, wrinkles, and brown spots. Vitamin E is also known as a wound healer.
D-Panthenol: Promotes wound healing, helps restore damaged epithelium, reduces itching and inflammation, improves skin hydration, reduces transepidermal waterless, and improves skin roughness.