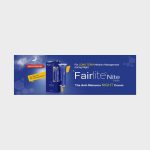 Fairlite Nite Cream
MRP: 438.00
inhibits the hyper-production of melanin
contains antioxidants which prevent oxidative stress to keep skin young.
provides broad-spectrum sun protection with SPF-50+
is safe for day time application & can be used for prolonged span.
Expert's Advice

Can use the Fairlite cream to in the day time to enhance the effects along with sunscreen if your skin is sensitive or you have any problems with hyperpigmentation.
Description
In Fairlite, Phenylethyl Resorcinol, one of the potent tyrosinase inhibitors, prevents hyper production of melanin by melanocytes.
In Fairlite Nonapeptide-1 prevents hormone mediated hyper-pigmentation.
In Fairlite, Aminoethyl Phosphinic acid, the non tyrosinase melanogenesis inhibitor reduces excess pigmentation.