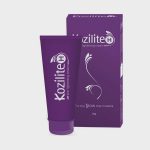 Ethicare Kozilite- H Skin Lightening Cream
MRP: 349.00
Reduces blemishes and lightens skin tone.
Expert's Advice

Use this in the night and use a sunscreen in the day time, will reduce dark patches.
Description
Skin lightening actives to achieve radiant look.
Unique faster acting combination gives visible lightening from deep inside the skin.
Ingredients – Kojic acid, Hydroquinone, Glycolic acid, Licorice, Arbutin, Lactic acid.