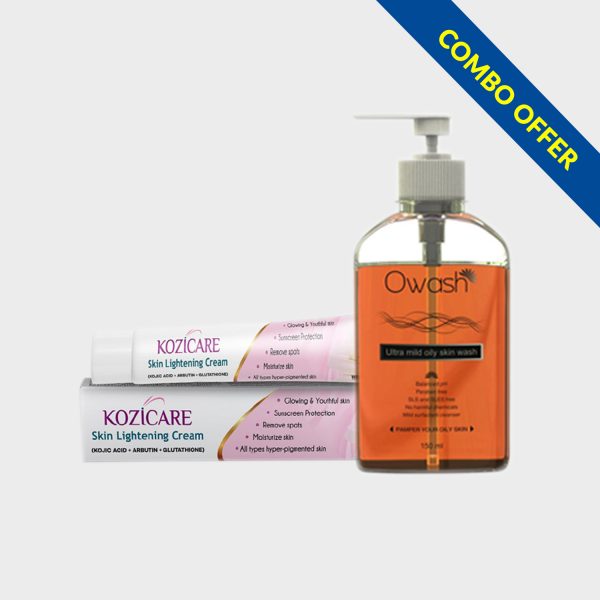 Ethicare Owash Ultra Mild Oily Skin Wash & Kozicare Skin Lightening Cream 15 gm
MRP: 770.00
Ethicare Owash Ultra Mild Oily Skin Wash
Helps to get rid of acne.
Removes pore-clogging impurities preventing future break out.
Kozicare Skin Lightening Cream 15 gm
Helps to treat the skin tone

Reduce dark spots in the face

Stimulates skin renewal and helps lighten spots, blemishes

Improve skin scars, spots, freckles, and sun damage

Decreases the melanin in the skin giving it an even complexion.

Protects skin from the harmful UV rays
Expert's Advice

Ethicare Owash Ultra Mild Oily Skin Wash : If you have had a peel for pimples, following that too you can use this. Will enhance the effect of the peel. Kozicare Skin Lightening Cream 15 gm : Use kozicare skin lightening cream for once in a day to help reduce pigmentation caused due to skin problems and harsh sunlight.
Description
Ethicare Owash Ultra Mild Oily Skin Wash
Gently cleanses your skin from deep and removes excess oil to give a natural, refreshed and clear look.
Leaves your skin feeling flawless, rejuvenated and acne free.
Acidic pH,
Paraben free
No chemicals
Mild surfactant cleanser.
Ingredients – Glycolic acid, Sepicontrol A5, Salicylic acid, Niacinamide, Kokum butter, Zinc PCA, D – Pathenol.
Kozicare Skin Lightening Cream 15 gm
Kozicare skin whitening cream is specially formulated to give your skin a perfect, lighter complexion. It visibly reduces the appearance of all skin discolorations including freckles, age spots, liver, and scars.
This product contains ingredients such as kojic acid, vitamin- E and vitamin c works on skin and gives a nourished fairer and brighter skin and also controls melanin production and brings radiance to the skin.
Rich blend of Kozicare skin whitening cream adds true value to the face that is skin deep. Well known kojic acid with Arbutin reduce dark sports by Inhibiting melanin synthesis. It protects skin from the harmful UV rays.
Indication:
Glowing ; Youthful skin
Lightens dark spots
Sunscreen protection
All type hyper-pigmented skin
Reduces fine lines and wrinkles
Encourages firmer skin
Deeply hydrates and moisturizes skin
Removes extra melanin
Direction of Use:
Rinse the skin with lukewarm water and pat dry.
Apply the skin whitening cream on your face and neck.
The best to use fingertips to apply cream in a circular motion then rub gently till the cream absorbs into the skin.
Apply twice a day to get better results.