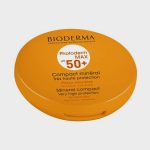 Bioderma Photoderm Max SPF50+
MRP: 1,345.00
Sunscreen in the compact form with foundation effect.
Ideal for concealing blemishes.
Description
Bioderma Photoderm Max Compact Teinte Claire SPF50+ :
Used for fair skin with freckles.
Recommended for post procedures.
Water resistant, resists perspiration, photostable, hypo-allergenic, non-comedogenic.
Preservative free, paraben free and fragrance free.
Apply evenly and liberally before exposure.
Re-apply frequently, before and after swimming, rubbing and playing sports.