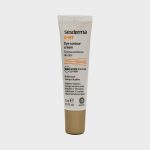 Sesderma C-VIT Eye contour cream (15 ml)
MRP: 1,600.00
Attenuates the signs of fatigue and crow's feet
Reduces puffiness and dark circles
Lightenes dark circle
Expert's Advice

Use in the day time and can be followed by under eye anti aging cream at night. This will help under eye dark circles too.
Description
Sweet orange extract favors the penetration of all other active ingredients, while providing Vitamin C.
Ascorbyl glucoside, a form of vitamin C that has greater stability and prolonged effect on the skin than standard Vitamin C.
Reinforces the antioxidant action and stimulates collagen synthesis in the fibroblasts, making the skin around the eyes gain a greater smoothness and resistance.
Inhibits the production of melanin, which favors the homogenization of the skin tone.
Organic silicon and sweet clover extract reduces the dark tone under the eyes.
Strengthens the connective tissue matrix (collagen and elastin) gene protected from oxidative damage caused by free radicals,
Firms and decongests the treated areas .