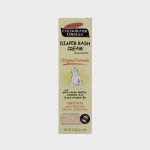 Palmers Bottom Butter Diaper Rash Cream (125 g)
MRP: 775.00
Creamy formula with pure Cocoa Butter, Vitamins A, D and Pro Vitamin B5 spreads easily onto baby's sensitive skin.
Prevents diaper rash by providing a protective, moisture- resistant barrier.
Description
No messy clean up. Use daily to keep baby's skin soft, supple and smooth.
Cocoa Butter: a rich natural moisturizer that leaves skin soft and silky, transforming even the roughest, driest areas into buttery soft skin.
Vitamin E: a powerful antioxidant that helps improve the appearance of scars, stretch marks and imperfections on the skin, giving a more even and toned appearance.