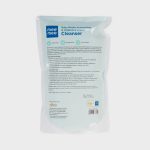 Mee Mee Baby Accessories And Vegetable Liquid Cleanser 1.2L
MRP: 649.00
Helps you clean baby's feeding bottles, nipples, feeding accessories, toys, vegetables and fruits.
Description
Additional information
Description
Cleanser allows you to carefully clean all the items that are in regular contact with the baby's body.
Formulated with edible ingredients.
Biodegradable, totally natural.
Anti-bacterial in nature and has cleared the non toxic test.
Made out of natural, biodegradable materials.