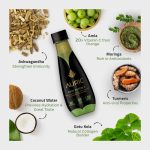 Auric Body Defence Pack of 24
MRP: 1,800.00
Ready to Drink Ayurvedic Immunity beverage in Coconut water.
 Tested for anti inflammatory action
Description
Contains Ashwagandha & Moringa which boosts immunity by reducing inflammation & increasing antioxidants respectively.
Coconut water makes Auric the perfect hydration partner.
Moringa Rich in a pigment called Rutin has both antioxidative and anti inflammatory benefit
Amla Rich in Tannins & Vitamin C, Amla has strong antioxidation potential
Turmeric Known for curcumin is naturally antibacterial and antifungal
Gotu Kola Called as Herb of Longevity, very well known for Anti Ageing feature
Low calorie juice with no added sugar.
100% Natural, No Chemicals, No Preservatives & Clean Label.
Works through three step process of Detox, Restore & Nourish because of its anti-inflammatory & antioxidant rich formulation
Keto Friendly, Vegan, Gluten Free, Lactose Free and Dairy Free.
Every bottle is with no added sugar and is low in calorie.
A glass of juice is almost 50 calories while Auric is just 14 calories.