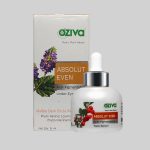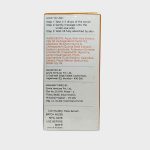 OZiva Absolut Even Anti-Pigmentation Face Serum (with Phyto Niacinamide, Phyto Alpha Arbutin,& Aloe Vera) for Hyperpigmentation & Dark Spot Correction
Brand/Mfr. : Oziva
Product Highlights
OZiva Absolut Even Anti-Pigmentation Face Serum is a must-have in every face care routine since it promotes even-toned, blemish-free skin and reduces pigmentation by up to 53%.
FREE shipping on all orders
MRP: 449.00
Description
Ingredients:
Skin Brightening Blend: White Peony Flower Extract, Rosemary Essential Oil Spot.
Corrector Blend: Phyto Niacinamide (Tulsi Extract), Phyto Alpha Arbutin (Uva Ursi Extract), Aloe Vera Extract.
Benefits:
Reduce hyper pigmentation.
Helps to reduce acne scars
Flawlessly glowing skin
Reduce existing pigmentation.
Enhance skin health.
Dark spots and hyperpigmentation are combated with this advanced, water-based, and lightweight serum.
Hyper pigmentation can be avoided by using Phyto Alpha Arbutin (Bearberry Extract).
White Peony Extract helps to reduce existing pigmentation.
Delay skin aging, strengthen the skin barrier, and fade acne scars/age spots with Phyto Niacinamide (Tulsi Extract).
Aloe vera extract reduces pigmentation and black patches on the face.
This water-based, lightweight, non-comodegenic serum is free of harmful toxins such as Silicones, artifical Fragrance, Dyes etc. and helps you reduce acne scars and control hyperpigmentation and fine lines from your early wrinkle prone areas, combats dark spots with Phyto Niacinamide (Tulsi Extract), Phyto Alpha Arbutin (Uva Ursi Extract), Aloe Vera Extract and gives you flawlessly glowing skin with the power of White Peony Flower Extract and Rosemary Essential Oil.
Direction of Use:
Take 3-4 drops of the serum
Gently pat onto cleansed face
Wait till fully absorbed by skin (Use twice daily for best results)
Safety Information:
Avoid coming into touch with your eyes. If you come into touch with your eyes, immediately rinse them with water.
Frequently Asked Questions:
Is this an entirely natural product?
Yes, it is manufactured entirely of natural substances. There are no hazardous substances in it.
Can we apply this product to all skin types?
We may use it on all skin types, but particularly oily and combination skin.
What is the recommended dosage in drops?
Using 3-4 drops of serum per day.
Is this a vegan product?
Yes, 100% vegan product.
Is this a product that has been clinically tested?
Yes, this product has been clinically evaluated and is approved.
Is this product effective at reducing pigmentation?
Aloe vera extract can help to reduce pigmentation and dark spots on the face.
When will I be able to see the results?
Based on clinically established data, you can see the result within 8 weeks of consistent use.