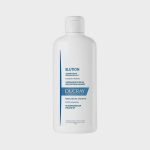 Ducray Elution Rebalancing Shampoo 200ml
MRP: 990.00
Prevents dandruff recurrence.
Hair becomes volumized and soft.
Expert's Advice

Use after any hair treatments which will cause hair textural changes
Description
Cleansing base gently cleanses your scalp and reduces the risk of recurring dandruff.
Scalp becomes weak after an anti-dandruff treatment, this shampoo helps protect the scalp.
Apply to a wet scalp.
Massage gently. Rinse.
Reapply and leave on for a short while.
Use as often as needed.