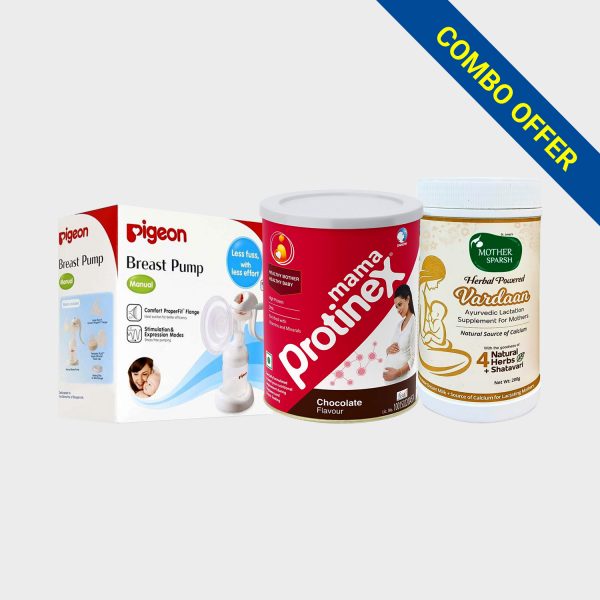 Mother Care Combo
MRP: 2,418.00
Description
Pigeon Breast Pump Manual :
Soft Silicone Cushion Provides a secure seal and comfortable fit for more efficient pumping.
Stimulation mode gently stimulates the breast to initiate milk flow and Expression mode to maximize milk flow.
Simple and easy – Fewer parts, which makes it easy to assemble, use and clean.
Hygienic design to prevent milk from flowing back to the funnel.
Bottle stand Secures bottle to prevent spills.
Mother Sparsh Vardaan Ayurvedic Lactation Supplement – 200 gm :
Made with the goodness of Shatavari and 4 natural herbs.
Promotes healthy lactation and enhances immunity in new mothers.
Promotes the production of breast milk in a natural way.
Dalchini being natural sweetener helps to nourish feminine organs.
Antioxidants in amla boost the immune system and vitamin c helps to promote lactation post-delivery.
Yashtimadhu helps in digestive issues and assists in hormonal requlation.
Natural, safe and has no side effects.
Protinex Mama (250g) :
Contains milk as well as soy protein, attends to the needs of the mother as well as the unborn child.
Bridges the protein gap, as it provides 32 gm of protein.
Recommended intake helps meet the folic need, and the DHA in Mama Protinex aides the brain growth and development of the unborn child.
Protein– Key in proper development of the baby
Iron– Important for the body's use of oxygen
Vitamins– Helps in tissue repair, bone growth and healthy skin
Zinc– For a healthy immune system
Magnesium – For the growth and repair of body tissues
DHA and Folic Acid – Needed for brain growth, visual development and higher birth weight.