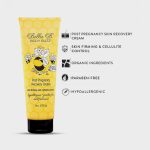 Body Buzz Post Pregnancy Recovery Cream – Skin Firming Cream 226g
Brand/Mfr. : Bella B
Product Highlights
Post Pregnancy Recovery Cream
Firms skin all over the body and minimizes cellulite, dimpled appearance of the skin on hips, thighs, and buttocks.
FREE shipping on all orders
MRP: 999.00
Description
Gives  dramatic improvement both in restoring loose skin by firming key areas of your body.
Has a creamy consistency and mild fresh scent.
Aloe Vera, Cocoa, Shea Butter, Avocado Oil naturally support your skin's firming ability
Olive oil, Honey , Vitamin C ,organic Safflower Seed Oil help restore the skin tone and fight the cellulite
Free of petroleum, Free of lanolin
Parabens Free,No artificial preservatives
Gentle Cream for mothers post pregnancy
Hypoallergenic, SLS Free, Sulfates Free, Phthalates Free
Dyes, Sodium chloride, Synthetic Fragrances Free
Formaldehyde, MEA, DEA, TEA Free.
Use liberally twice daily for best results.