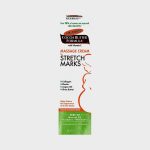 Palmers Cocoa Butter Massage Cream For Stretch Marks 125gm
MRP: 499.00
Made of Pure Cocoa Butter and Shea Butter, Natural Oils, Collagen, Elastin and Lutein
Rich concentrate for stretch marks prone areas such as tummy, hips, thighs & buttocks.
Expert's Advice

After childbirth this can be used on areas with stretch marks.
Description
Improves the elasticity up to approx 95 %
Can be use any part of body such as tummy, hips, thighs and bust and dry area.
Can be used During pregnancy or after pregnancy
Relieves dryness from stretching skin.
Helps reduce the appearance of stretch marks.
Free of mineral oil, parabens, phthalates, fragrance allergens & dyes.
Hypoallergenic, suitable for sensitive skin & dermatologist approved.