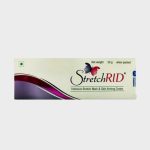 StretchRid Cream 50g
MRP: 824.00
Responsible for eliminating the marks and scars that occur on the skin as a result of age.
Description
Reduces Stretch Marks.
Diminishes the Appearance Of Existing Stretch Marks.
Improves firmness Of the Skin.
Repairs the Skin & Makes the Skin Smooth.
Take an Adequate Amount Of Stretch Mark Cream On Your Palm.
Apply evenly on the Affected Area Using Circular Motion.
Apply Twice Daily For Better Result.