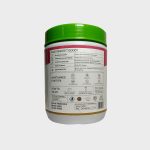 OZiva Protein & Herbs for Women – Natural Protein with Whey, Ayurvedic Herbs & Multivitamins for Better Metabolism, Skin & Hair
Brand/Mfr. : Oziva
Product Highlights
Reduces body fat.
Improve metabolism and hormonal balance.
Help to achieve healthier skin and hair.
Designed exclusively for ladies.
FREE shipping on all orders
MRP:
Description
Ingredients:
Ultrafiltered whey protein concentrate, Cross flow micro filtered whey isolate, Alkalized cocoa, Herbs blend (Shatavari, Guduchi, Flaxseeds, Green tea, Curcumin, Tulsi, Cinnamon), Vitamins and Minerals blend, Digestive blend (Papain, Bromelain), Xanthan gum, Natural sweetener (Stevia).
Benefits:
Body toning: This is the ideal regimen for achieving a naturally toned body.
Metabolism: As a result, the pace of metabolism improves, lowering the risks of body fat accumulation.
Healthy Skin and Hair: Protein is the foundation for beautiful skin and luscious hair. It strengthens the nails, making you not only powerful on the inside but also attractive on the outside.
Less Fatigue, More Energy: Studies reveal that women may have fewer mood swings, feel less weary while exercising, and have fewer cravings for carbohydrates and food. This health drink may help you sleep better if you drink it on a regular basis.
OZiva Protein & Herbs for Women contains 23g of Clean Protein (cold-processed whey protein), 5.5g of BCAA, as well as important multivitamins, minerals, and Ayurvedic herbal extracts.
Exclusively designed for women.
Assists in the development of lean muscle mass and the reduction of body fat.
Ayurvedic Herbs Blends such as Shatavari, Guduchi, Flax Seeds, Green Tea, Curcumin, Tulsi, and Cinnamon help to improve metabolism and hormonal balance.
Biotin, Iron, Zinc, Vitamin A, Vitamin D, Vitamin C, B-Vitamins, and other vital Multivitamins can help you achieve healthier skin and hair.
Gluten-free, Soy-free, non-GMO, no artificial sweetener, and 0g added sugar.
How to Use:
Mix one scoop in 200 ml of water.
Shake well or use a blender to mix. Enjoy it!!!
Safety Information:
One serving (1 scoop- 32g) per day is suggested for women. The suggested period of use is influenced by the physiological parameters of the individual. It is not advisable to use more than the recommended limit every day.
Frequently Asked Questions:
What can I expect from this product in terms of outcomes?
It is determined by your goal, nutrition, calorie intake, and physical activity. If you're looking to lose weight, we recommend speaking with your nutritionists after you've purchased it to make sure your diet is on track.
What is the most effective way to consume this product?
We recommend taking it after a workout or with breakfast, but you can customize it to your specific goals and lifestyle with the advice of your nutrition experts.
Who can benefit from this product?
While OZiva Protein & Herbs for Women can be used by almost anyone, it is best suited for women aged 16 to 65.
What diet should I follow if I take this supplement?
It is sufficient to eat a healthy diet with a balanced caloric and macro/micronutrient consumption following your goals.
Can I still use this product if I don't exercise?
You certainly can; your body will still benefit from a proper diet. However, we recommend that you get at least 30 minutes of exercise every day.
When will I be able to see the results?
In most cases, with consistent usage of the product and a good diet/lifestyle, you should see results in around 3 months.
Is it safe to use this product when pregnant? Or is OZiva good to use pregnant women?
Although the product is 100% natural and safe, we recommend that you consult your gynecologist before using it.
What happens if I stop using this supplement?
Aside from the fact that your body isn't getting the nutrition it needs, nothing negative happens if you eat well and live a healthy lifestyle.
Is this a vegan product?
Yes, 100% vegan.
What is new in the product?
1.Contains Whey Concentrate & Isolate – Cold Processed Whey Concentrate rather than Denatured (Heat Treated).
2. Serving size has increased from 30 g to 32 g.
3. There is no added sugar.
4. Mentioned cholesterol information on the label of the product.
5. It contains Zero Trans fat.
6. This product enhanced by complete Amino acid profile.
7. Herbals count increased from 4 to 7.
8. Added digestive blend – Papain & Bromelain
9. Important/Deficient micronutrients mentioned not all and also increased quantity of important nutrients.
10. Stevia gives natural sweetness in this product.
11. Doesn't contain milk.
What is the percentage of herbal blends, and why is it important?
Different herbs are added to the product to fulfill the efficacy of each one. We now utilize herb extracts, which are 5-50 times more strong than powder, instead of powder, therefore the quantity of herbs has increased and they are more powerful than before.
How has taste changed? What has been added for that?
Because we now use stevia instead of sugar and higher-quality cocoa, the taste has changed.
Why has the size of the plastic container been increased?
To avoid damage caused by excessive pressure during transportation.
Is it FDA approved?
The Food and Drug Administration (FDA) does not evaluate any products. All we have to do now is adhere to the guidelines.