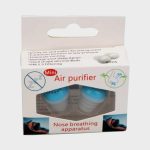 CGT Silicone Anti Snore Nasal Dilators
Brand/Mfr. : CGT
Product Highlights
Relieves snore and nasal congestion and gives a good sleep and smooth breath.
Purifies air to allow you to breathe healthy and fresh air.
FREE shipping on all orders
MRP: 600.00
Description
ABS and silicone material is eco-friendly, harmless and soft to fit in the nostril firmly and comfortably.
Aids sleep apnea without disturbing normal sleep.
Mini size with lightweight will not add extra pressure to nose.
Convenient to carry.