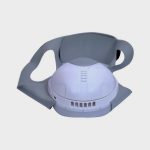 TCL CJ16F-A2 India's First Electronic Air Pollution Mask (White)
MRP: 1,990.00
Pollution mask with protective filter.
Four layer composite protective filter.
Efficiently filters harmful particulates.
Description
Helps people with Asthma and Nasal infections during high pollution days.
Active air supply is maintained thus helping smooth breathing.
A four layer half face respirator is reusable and offers the user comfort and convenience.
It can be disassembled, cleaned and reused.
It is very light-weight. Easy to adjust head straps.
Useful to protect against:
                            Chemical contaminants
                            Dirt and dust
                            Air pollution
                            Pet allergy
                            Dangerous gas fumes
                            Toxins
                            Smoking.