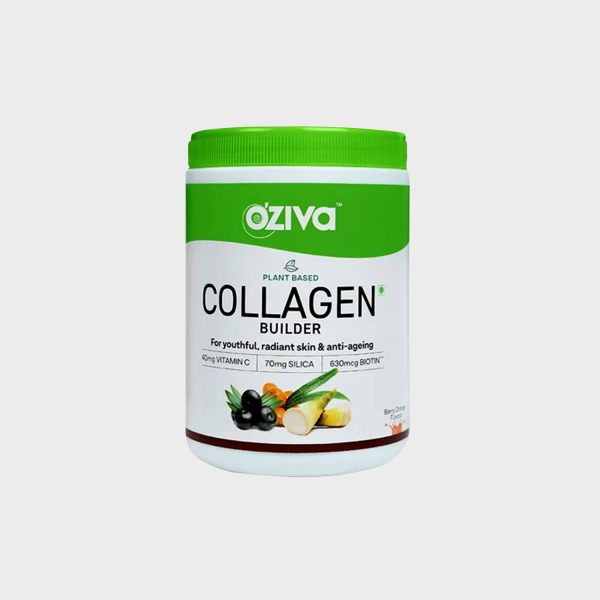 OZiva Plant Based Collagen Builder (with Silica, Vitamin C, Biotin) for Anti-Ageing Beauty & Glowing Skin, 250g
Brand/Mfr. : Oziva
Product Highlights
Assist in the body's natural glow.
Biotin helps to maintain younger-looking skin.
UV protection is provided.
Biotin helps in the repair and rebuilding of the skin.
FREE shipping on all orders
MRP:
Description
Ingredients:
Pro-Collagen Blend-2.3g: Guava powder, Sea buckthorn (3.3%), Lemon Powder, Rose Petals (3.3%), Orange Juice (3.3%), Spinach powder, Pink salt, Spirulina powder, Barley Grass powder, Amla powder, Holy Basil Powder.
Anti-Aging Blend-2.2g: Pomegranate powder, Strawberry powder, Lemon powder, Acai Berry (3.3%), Ginger powder, Pink salt, Green tea extract, Cinnamon extract.
Collagen-Vitamin Blend-1.5g: Lemon powder, Acerola Cherry (3.3%), Sesbania Agati (3.3%), Bamboo shoot (1.6%).
Contains naturally occurring sugars.
Benefits:
Repairs Damaged Skin
Rejuvenates Skin
Reduces Wrinkles
Promotes Youthful & Glowing Skin
OZiva Plant-Based Collagen Builder is made up of over 21 authentic, nutritionally plant-based whole foods, with ingredients designed to enhance the body's natural collagen production.
8 anti-aging Superfoods, 10 pro-Collagen Superfoods, and 3 standardized wholefood Vitamin extracts are included.
Maintains healthy levels of Collagen, Keratin, and Elastic-3 Proteins, all of which contribute to the body's natural glow.
Pollutants in water, air, and food, as well as stress and excessive sun exposure, deplete our Collagen stores, necessitating replenishment.
70 mg Silica, 40 mg Vitamin C, and 252 mcg Biotin support and preserve younger-looking skin.
Silica from natural bamboo shoots is an important co-nutrient for Collagen creation, while Vitamin C from Acerola Cherry protects against UV damage and beauty-boosting Biotin helps in skin repair and regeneration.
100% vegan solution that boosts Collagen production.
Gluten-free, soy-free, non-GMO, no artificial sweeteners, and 0g sugar.
Direction of Use:
Mix 2 scoops (6g) in 200 ml of water.
Stir well and enjoy it!
Safety Information:
Adults should take one serving (6g) every day. The recommended period of use is determined by the individual's physiological parameters. It is not advisable to use more than the recommended quantity every day.
Frequently Asked Questions:
Is there any specific age to take Collagen Builder?
Collagen Builder is best started in your twenties. There is, however, no upper age limit, and you can begin consuming it at any age. The most important thing is to drink it on a daily basis.
Who is allowed to use Collagen Builder?
OZiva Plant-Based Collagen Builder is suitable for anyone aged 16 to 65.
Is it safe to take Collagen Builder?
Collagen Builder is a supplement comprised entirely of natural ingredients. As a result, it is a safe and effective method of improving skin health. It helps in the maintenance of a healthy glow and soft skin. As with any supplement, it should be used in combination with a clean, healthy diet and lifestyle.
How long does it take for the Collagen Builder to work?
The time it takes to see effects is about 12 weeks.
When should Collagen Builder be consumed?
Collagen Builder should be taken the night before you go to bed.
When will I be able to see the results?
In most cases, with consistent usage of the product and a good diet/lifestyle, you should see effects in around 3 months.
OZiva Plant Based Collagen Builder in boosting hair growth? or Is plant based collagen effective in hair growth?
In a variety of ways, OZiva Collagen Builder can help you achieve healthy hair. For example, the amino acids in Collagen may be able to help your body manufacture hair proteins and reinforce the skin around your hair roots.
Is this a vegan product?
Yes, 100% vegan. The product has no animal-derived ingredients.
What is collagen?
Collagen is a protein that makes up one-third of the human body's protein. It is made naturally in the body from amino acids and is important for the health of our connective tissue, skin, hair, and nails.
How does your collagen supplement work?
The OZiva Plant-Based Collagen Builder assists in the body's natural collagen production. 8 Anti-Aging, 10 Pro-Collagen Superfoods, and 3 Standardized Wholefood Vitamin Extracts boost collagen synthesis in Collagen Builder.Collagen Builder contains 70 mg of Silica, 45 mg of Vitamin C, and 630 mcg of Biotin, all of which contribute to Anti-Aging Beauty.
What is the best way to use it?
In the evening or before bedtime, mix 2 scoops with 200-250ml water.
Is this easy to digest?
Because the product is completely vegetarian, it contains no collagen protein and instead relies on plant-based elements that are easier to digest. The product itself is not collagen, it is a collagen builder.
What is the minimum length of time one should consume the collagen to see visible results?
The outcomes are determined by the individual's diet and lifestyle. Results can be expected in 60-90 days if combined with a good diet and regular exercise.