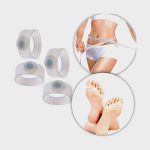 Divinext DI-267 Slimming Silicone Foot Massage Magnetic Toe Ring
MRP: 399.00
Magnetic reflexology used by this gadget increases metabolism, and results in healthy fat loss.
Combines traditional Japanese processing and modern technologies.
Description
Magnet pieces emits 1,100 Gauss's magnetic force to stimulate the acupuncture points.
Magnetic toe rings are made of high-quality silicone rubber and come fully loaded with "strategically placed magnets" that target specific pressure points that are said to trigger weight loss.
Flexible and comfortable, are almost invisible, and they exert pressure at each step.
Use it every day while you sleep, walk, exercise, running and to work too.
Wear the rings on the 2 big toes. Make sure that the magnets are positioned beneath the toe and in the middle.
Washable with lukewarm water and mild detergent.
Walk for just 15-20 minutes a day in addition to wearing the toe rings
For best effects wear the toe rings for 24 hours a day.
If it becomes uncomfortable, wear for atleast 12 hours a day.