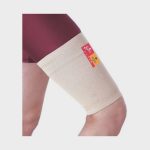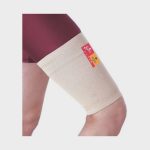 Flamingo Thigh Support Large
MRP: 230.00
Reduce the stress and strain on the thigh.
Reduces fatigue and muscle tiredness.
Expert's Advice

Helpful in people with thigh cramps and pain, but shouldn't be used in patients with varicose veins
Description
Additional information
Description
Provides compression, heat retention and support to the quadriceps and hamstrings areas.
Gives support and compression to the weak or injured thighs.
Effectively supports strained groin muscles and torn hamstrings.
Immensely beneficial in easing out the pain and swelling in thigh and hamstring.
Promotes faster healing after injury.
Provides instant compression and support to the affected area.
Available Sizes – S 42.5-47.5 cms, M 47.5-52.5 cms, L 52.5-57.5 cms, XL  57.5-65 cms, XXL 65-67.5 cms.