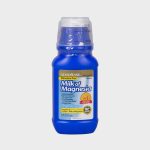 Good Sense Original Milk Of Magnesia Saline Laxative – 355 ML
MRP: 1,899.00
Relieves occasional constipation
Produces a bowel movement within 30 minutes to 6 hours
Stimulant-free and offers comfortable, cramp-free relief.
Description
Used to treat or prevent constipation, and to reduce pain or rectal damage caused by hard stools or by straining during bowel movements.
Active ingredient in each 15 mL Magnesium hydroxide 1200 mg (saline laxative).
Do not exceed the maximum recommended daily dose in a 24-hour period.
Shake well before use.
Drink a full glass (8 oz) of liquid with each dose.
Adults and children 12 years and older: 30 mL to 60 mL.
Children 6 to 11 years: 15 mL to 30 mL.
Children under 6 years: ask a doctor.