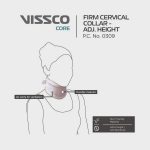 Vissco New Firm Cervical Collar XXL
MRP: 520.00
Stabilizes the neck and immobilizes the cervical spine.
Cervical arch support maintains neutral alignment.
Expert's Advice

Relieves spasm of neck muscles and relaxes paravertebral soft tissues.
Description
Additional information
Description
Helps in conditions like Cervical spondylosis, Disc degeneration, Fracture, Neck muscles spasmal, Neck Pain, Neck Strain, Torticollis, Whiplash injury.
Provides excellent cervical spine immobilization.
Can be easily applied and adjusted in height.
Made from special fiber malleable molded material.
Lining provided with foam rubber covered with vinyl for comfort.
Available Sizes – S 30-34 cms, M 34-38 cms, L 38-42 cms, XL  42-46 cms, XXL 46-50 cms.