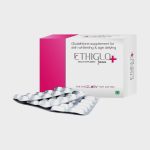 Ethiglo Plus Tablets
MRP: 3,200.00
L-glutathione supplements in combination with VitaminC.
Glowing,fairer and ageless skin.
Expert's Advice

Can be consumed for short period of time. Glutathione when combined with Vit C gives better results.
Description
Skin augmentation like whitening of the skin, cleansing of the skin.
Improves dark spots, pigmentation, wrinkles, acne scar, age spots, dark circles, blemishes, tan and freckles.
Nourishes the skin, to make the skin smoother, soft, glowing, and more even.