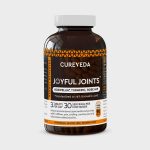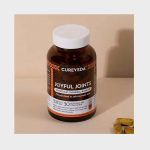 Cureveda Joyful Joints
MRP: 1,495.00
For Joint Care & bone healing, sprain & strain
Subsides Aches, stiffness and swelling
Maintains flexibility & mobility of joints- knees, wrists, legs, back.
Description
The blend of Ashwagandha, Boswellia, Rose Hip and Curcumin works to aid in joint pain, backache, sprain, sciatica, spondylitis and chronic pain.
Helps to provide relief in muscle spasm.
Boswellia helps to strengthen the bones & muscles and protects the joints from degeneration and keeps bones, joints healthy and strong
Rasna helps in pain management.
Ashwagandha helps to reduces stiffness and inflammation.
Turmeric gives relief from pain and helps to maintain joint & muscle health while rose hip protects joints from damage and deterioration.
Directions for Use
1 tablet thrice a day with water or as advises by the physician. Avoid taking on an empty stomach.
In chronic cases continue for 3 months.
Pregnant & Lactating women should consult their physician.