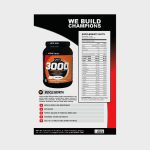 QNT Amino Acid 3000 (300 tabs)
MRP: 1,199.00
Muscle growth and maintenance with bcaa's.
Perfect balance of essential amino acids.
Description
Convenient way to boost your amino acid intake.
Provides a high concentration of an amino acids complex, containing a natural source of BCAA's and L-arginine.
Helps maintain and develop muscles. Perfect to fuel your body after training.