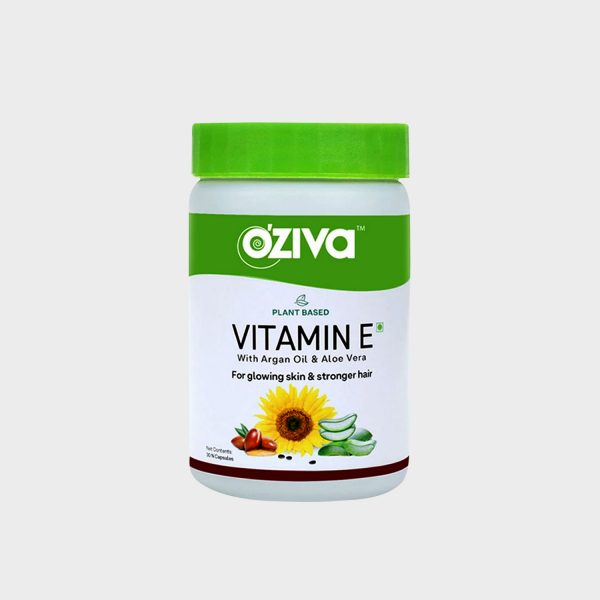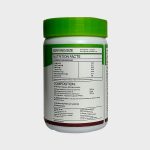 OZiva Plant Based Natural Vitamin E, with Sunflower oil, Aloe vera oil & Argan oil, for Glowing Skin & Strong Hair, 30 Capsules
Brand/Mfr. : Oziva
Product Highlights
Make your skin glow and your hair strong.
Encourages a hydrated scalp, resulting in radiant, healthy hair.
Acne, dark spots and blemishes are reduced.
Helps in the restoration of a dry scalp.
FREE shipping on all orders
MRP:
Description
Ingredients:
Sunflower (Helianthus annus) seed extract.
Argan (Argania spinosa) seed oil.
Aloe Vera (Aloe barbadensis) leaf extract.
Other Ingredients-Vegetarian Capsule (HPMC).
Benefits:
Sunflower oil promotes skin radiance and hair growth.
Argan oil aids in the control of hair loss and acne.
Aloe Vera Oil hydrates and lightens blemishes.
Give your skin a natural boost with OZiva Plant-Based Natural Vitamin E, which is made completely of natural vitamin E derived from non-GMO sunflower oil and has a 2X higher absorption rate than synthetic vitamin E.
 Sunflower oil, Argan Oil, and Aloe vera oil nourish the skin and hair, giving it a healthy glow.
Encourages a moisturized scalp, which leads to beautiful, healthy hair.
Acne, dark spots and blemishes are reduced.
Repairs dry scalp, improves hair texture, and promotes shining hair.
Direction of Use:
For optimal absorption, use 1 capsule daily with lunch or dinner.
Safety Information:
One serving (1 capsule) per day is recommended for adults, don't exceed the recommended limit.
Frequently Asked Questions:
How should this OZiva Plant-Based Vitamin E be used?
For better absorption, take one capsule with/during lunch or dinner, but you can customize it to your goals and lifestyle with the advice of your nutrition experts.
Who can take OZiva Plant-Based Vitamin E?
OZiva Plant-Based Vitamin E is suitable for anyone aged 16 to 65.
What diet should I follow if I use OZiva Plant-Based Vitamin E?
It is sufficient to eat a healthy diet with a balanced calorie and macro/micronutrient consumption following your goals.
Can I still use OZiva Plant-Based Vitamin E if I don't exercise?
You certainly can. Nutrition will still be beneficial to your body. However, we urge that you engage in at least 30 minutes of physical activity each day.
When do I stop using OZiva Plant Based Vitamin E, what happens?
Except for the fact that your body will no longer receive its daily dose of clean plant-based Vitamin E, nothing should happen if you maintain a healthy diet and lifestyle.
Is it OK to use OZiva Plant-Based Vitamin E while I'm pregnant?
OZiva Plant-Based Vitamin E is a natural and safe supplement. However, before consuming, you should speak with your gynecologist.
What are the benefits of OZiva Plant-Based Vitamin E?
It's designed to help you achieve bright skin and stronger hair by decreasing acne, dark spots, and blemishes, as well as repairing dry scalp, improving hair texture, and boosting shine. When paired with a healthy lifestyle, however, it takes 2-3 months to see the finest results.
When will I be able to see the results?
In most cases, with consistent usage of the product and a good diet/lifestyle, you should see effects in around 3 months.
Is this a vegan product?
Yes, 100% vegan. The product has no animal-derived ingredients.
Is this something that can be used to remedy dark circles and pigmentation?
Yes, the product is fantastic for improving skin radiance because it contains vitamin E, Argan, and Aloe Vera Oil. Dark circles and hyperpigmentation are treated with Matcha Plus, which is strong in antioxidants. Vitamin E and Matcha Plus can be eaten together.
What are Vitamin E's primary and secondary sources?
Non-GMO sunflower oil is the primary source, the secondary source is Argan and Aloe vera oils.
What is the difference between this product and matcha plus for shining skin?
Matcha Plus brightens the complexion and removes dark spots while also controlling skin pigmentation and dark circles. Vitamin E is developed to help maintain skin moisture, radiance, and hydration.
In terms of hair growth, how does this product compare to biotin?
Biotin acts as a cofactor for an enzyme involved in protein synthesis, mainly keratin. Keratin is the structural protein in hair, which helps it grow.Vitamin E improves blood circulation to the scalp, balances pH levels, regulates sebum production, and nourishes hair follicles. Vitamin E improves the condition of the scalp and the strength of the hair.
What is the composition of the vegetarian capsule?
The capsule is known as the HPMC capsule and it is made of plant cellulose.
Is it suitable for all types of skin?
It is suitable for people of all skin types. If you have really sensitive skin, however, we recommend visiting a dermatologist before using it as a facial application. However, no studies were found with reference to side effects on consumption.
Is it possible to use it to slow down the indications of aging?
Yes, as previously stated, vitamin E acts to prevent free radicals from entering the body, which play a significant role in the aging process, hence decreasing premature indications of aging and maintaining youthful skin. It can be taken together with OZiva Collagen Builder.
What is the effectiveness of the product?
It should show effects in three to six months when combined with a good diet, regular exercise, and limited sun exposure.
When do customers have to consume?
Customers can take it for the rest of their lives because it is a food supplement that will help them improve their skin health and protect their skin.
Which age groups are allowed to consume?
Both men and women above the age of 13 can consume.
Is it safe to eat while pregnant?
Since the Vitamin E dosage exceeds the RDA, We recommend consulting a doctor.
What are some other situations in which people should seek medical advice?
People with heart disease or who are using blood pressure, a blood thinner, or diabetes drugs should see a doctor.
When is the best time to take Vitamin E?
For better absorption, take with lunch or dinner.
Why take a supplement instead of simply applying?
When applied to the skin, vitamin E is unstable and readily depleted (oxidized) when exposed to the sun, offering only short-term advantages. Applying topical vitamin E to persons who have recurrent breakouts or pores that clog easily can aggravate the symptoms.
Oral Vitamin E preserves the fibroblast in the skin and stays in the cells for a long time, according to studies, boosting and preserving healthy and bright skin.