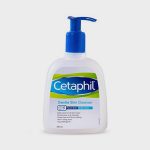 Cetaphil Gentle Skin Cleanser (250ml)
MRP: 470.00
Gentle skin cleanser removes dirt, excess oil, make-up and other impurities.
Suitable for both body and face.
Does not dry the skin for all skin types.
Expert's Advice

Use instead of soap on damaged skin and dab with towel to dry skin and apply your moisturiser within 5 minutes after bath.
Description
Is a mild formulation that can be used every day, with or without water.
Apply cetaphil gentle skin cleanser to the skin and massage gently.
Rinse off with water and pat dry with a soft towel.
Softens as it cleans.