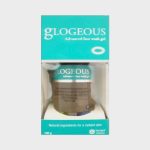 Glogeous Advanced Face Wash Gel 100gm
MRP: 960.00
Cleanses with superior nourishment without disrupting the pH balance of the skin.
Reduces appearance of Acne on the skin.
Cleans deep inside the pores of the skin.
Expert's Advice

Face wash, skin rejuvenation and complexion
Description
Maintains pH balance.
Prevents dryness post application of the face wash.
Gently cleanses surface dirt, sweat, excess oil and impurities.
Removes water insoluble impurities.
Suitable for all skin types especially Acne Prone Skin.
Damp the face with water.
Dispense required quantity of face wash onto the palms.
Massage in upward circular motion for 20-30 seconds.
Rinse off with clear water and pat the face dry.
Use atleast twice a day regularly to enhance antimicrobial activity – This reduces the risk of infections on the skin.