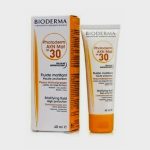 Bioderma Photoderm AKN Mat SPF 30 Matifying Aanti-Blemish Sunscreen Combination Acne-Prone Skin. 40ml
MRP: 1,550.00
Mattifying fluid with high sun protection.
Effective for combination and oily skin.
Expert's Advice

If you are taking any treatment for pigmentation then this is the sunscreen of choice.
Description
Bioderma Photoderm AKN Mat SPF30 – Sunscreen lotion
With an exclusive association of anti-UVA anti-UVB dermatological filters, Photoderm AKN Mat offers optimum protection against UV rays combined with an internal biological protection.
Activates the natural defences, protects cells and prevents premature skin ageing.
Has Durable mattifying texture, colourless when applied, leaves no oily film and no white traces.
Regulates sebum quality to keep pores from becoming clogged and prevent the appearance of blemishes, which is often exacerbated after periods of sun exposure (rebound effect).
Offers real internal biological protection: Cellular Bioprotection™.
Apply several times a day when exposed to the sun
Apply evenly and liberally before exposure (a smaller amount of product reduces the level of photoprotection).
Re-apply frequently, before and after swimming, rubbing and playing sports.