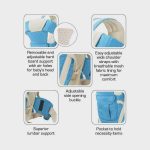 Chinmay Kids 4-in-1 Adjustable Baby Carrier Cum Kangaroo Bag/Honeycomb Texture Baby Carry Sling/Back/Front Carrier for Baby with Safety Belt and Buckle Straps (Blue)
MRP: 1,420.00
Baby Carrier 1 Pc Adjustable 4-in-1 with Comfortable Head Support & Buckle Straps (Red)
Description
Three Postion Baby Carrier Is Perfect For Parents On The Go.
You Can Carry The Baby In Three Positions – Horizontal, Against Chest And Kangaroo Style.
Carrier Is Designed With A Head Cushion And Neck Protection Band.
Protects New Born Baby's Neck While He/she Is Sleeping.
A Zipper On The Shoulder Strip makes The Strip Wider And Prevents It From Dropping As Well
As Reduces Mother'S Burden When Crying Baby And Ensures Stablity.
Hands-Free Portability While Bonding With Baby,Zip Up Front For Easy Access and Comfortable Shoulder Straps.