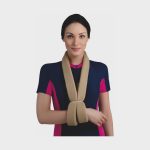 Flamingo Cuff And Collar Sling universal
MRP: 369.00
Conditions of bone, muscular or ligament injuries to the hand, arm, elbow, shoulder.
For arm support required following surgical or nonsurgical correction (especially in conjunction with a cast or brace).
Description
Arm slings are often used in emergency room or first aid situations to support a fracture or dislocation awaiting physician intervention.
Available in Universal size which comfortably fits every one.
It does not hamper the body movement and allows easy movement of the limbs.
Material is breathable,comfortable,and easy-to-fit.
Easy to use, simple to adjust and washable.