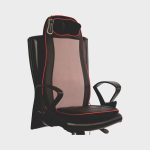 Vissco Back and Neck Massager
MRP: 12,900.00
Massages Para spinal muscles (Muscles around Spine) by its rolling action.
Vibration at the bottom massages buttock area.
Kneading around Neck relives spasm and pain of neck muscles.
Description
Provides an intense, deep and refreshing massage for your total back in the car, at office or even at home.
Infrared heating causes increased blood circulation and muscle contraction which leads to relief of pain.
These wellness Relaxers It gives Vibration at the bottom and massages the upper middle and lower back.
Massages the upper /middle/ lower back/Neck.
15 minute auto shut off.
Comes with controller, power adapter and 12V car plug.